Piano Lessons
(All lessons are held in private studios at Enumclaw Music.)
Amanda Becker
Cello/Clarinet/Guitar/Piano/Ukulele/Voice/Violin
Contact: 360-825-1191 (store), 805-738-2092 (cell)
Website: https://www.amandabeckermusic.com​
Available: Tuesday, Wednesday, Thursday (3-6 pm)
Levels taught: Piano/Voice/Guitar/Clarinet (All)
Violin/Cello/Ukulele (Beginning - Children)
Ages taught: 7+
Rates: $25 for ½ hour, $35 for 45 min, $45 for 1 hour
Amanda Becker has 20+ years musical training and performance experience, originally gaining a foundation in music from former piano teacher, Jan Sundberg. She then went on to study under the professional musician former Seattle Conservatory of Music faculty member, and current teacher at Pacific Northwest School of Music, Sydney Han-Lee. While in college, Amanda also studied under two Drs. of Music at Judson College in Alabama, while majoring in piano and voice. She has also undertaken studies on the cello, viola, guitar, and studied voice under Professor Mary Eggleston of Hollins University in Roanoke, Virginia, and with recording artist, Kathy Peretti.
Amanda holds a Bachelor of Arts in Liberal Arts with extensive focus on Music, Psychology, History, and English. She also holds Masters in Business Administration and is currently a doctoral student. She teaches private and group voice, piano, guitar, cello, violin, clarinet, and ukulele lessons; is a music business consultant to other private music teachers; and also works with recording and performance artists to develop their musical careers. Her experience includes 15+ years experience as a teacher and education entrepreneur, and 8 years of music teaching experience.
Education: BA, MBA, ThD
Alyssa Saunders
Violin, Piano
Contact: 541-778-1857 or alyssa@alyssastudios.com
Available: Tuesday
Levels taught: All
Ages taught: 5+
Rates: Call
Alyssa Saunders is a piano and violin instructor with over 18 years of experience.
She is passionate about making music fun for all ages.
Alyssa specializes in teaching children ages 5 and up, but also takes adult students from beginning to the early advanced range.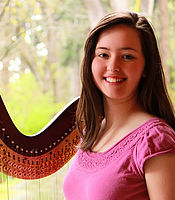 Cassie Turner
Piano, Harp
Contact: 253-389 7670 or pnwharpist@gmail.com
Available: Wednesday, Thursday
Levels taught: All
Ages taught: 5+
Rates: $25 per half hour, $35 per hour
A native of the Plateau area, Cassie Turner is a harpist, pianist, and teacher with a passion for sharing music with, and educating, people of all ages and backgrounds. With over nine years of teaching experience as well as her Bachelors of Music in Harp Performance from Pacific Lutheran University, Cassie comes with a vast knowledge of music theory, ear training, and music history that she enjoys incorporating into her lessons to provide a fully rounded lesson experience. While she loves to provide a starting point for young (or not so young!) students to discover the joy of learning an instrument, Cassie's expertise in a wide variety of performance areas such as orchestras, choirs and many other ensembles as well as solo performance equip her to provide meaningful challenges and advice to experienced musicians as well.
Cassie served as pianist/keyboardist/singer at Wabash Church for many years as well as functioning as co-interim music director. She has also had years of performances with orchestras including the Symphony Tacoma, Bremerton Symphony, Olympia Symphony, and Rainier Symphony. Other ensembles include accompanying the Federal Way Chorale, Sonoro Women's Choir, Women of Note, among others. A highlight has also been twice having the opportunity to perform alongside Grammy-nominated harpist Deborah Hanson-Conant during her tour of the Pacific Northwest.
Krishawn Woodbury
Cello and Piano
Contact: 360-825-1191
Available: Wednesday, Thursday
Levels taught: All
Ages taught: 5+
Rates: $25 per half hour, $35 per hour
Miss Krishawn Woodbury is an enthusiastic cello and piano teacher. She began her piano studies at age 5, and her cello studies at age 10. In 2017, she graduated with a BA in Music from Walla Walla University, which included performing a full-length senior cello recital. While in college, she studied under several fine cello teachers, including Dr. Sally Singer Tuttle, Dr. Karin Thompson, and Benjamin Gish. Krishawn is certified in the Suzuki Method, and is committed to developing proper technique and expressive musicianship in her students. She is excited to share the joy of making music with you!
Luanne Kaupilla
Piano, Kindermusik
Contact: 360-825-8870
Available: Monday, Tuesday, Thursday, Friday
Levels taught: All
Ages taught: 5+
Rates: Call
Luanne's principle goal is to provide a positive, nurturing environment in which students can experience the joy, satisfaction and challenge of learning play the piano and discovering their musical potential. She believes that while music study requires work and commitment, the process should be fun and rewarding, helping to develop the intellect, self-esteem, confidence, coordination, discipline, concentration, creativity, self-expression and a lifelong love of great music.
Luanne has a BA in Piano Performance. She began teaching in 1977 and since then has worked with students of all levels in private, group and class settings. Ms. Luanne has earned State and National Certification from the Music Teachers National Association (mtna.org) and is an active member of Puyallup Vally Music Teachers Association and the state and national organizations—WSMTA and MTNA. Since March 2008, she has studied the Taubman Technique (http://www.golandskyinstitute.org/about/taubman-approach/ ), an in-depth physiological approach to piano technique which both prevents and relieves injuries sustained by musicians.
Luanne has also been a Kindermusik educator since 2003, working with newborns to age seven in music and movement.
Lynn Brannen
Voice, Beginning Piano and Guitar
Contact: 206-478-6526
Available: Wednesday
Levels taught: All
Ages taught: 7+
Rates: Call
Lynn has been teaching voice and guitar for 30 years. Her experience includes lead roles in light opera, musical theatre, classical performances and many years as a worship leader in her church She received a Bachelor of Arts in Music/Vocal performance from the University of California at Santa Barbara.
Her vocal technique lessons will move you into experiences with your voice that you have never known.
- You will develop strength and clarity
- Expand your range
- You will sing notes you never thought possible
- Fix pitch problems
Her guitar lessons give you the choice to learn chords, read guitar music, grasp rhythmic strumming, learn flat-picking, finger picking, and music theory. If you are a beginner, the first lessons will have you playing simple chords to accompany yourself in song. A determined and patient teacher, she looks for musical abilities both latent and visible that she can encourage. A high priority for her is establishing a good relationship with her students. She believes this always enhances learning.